Byens Lys - 'City Lights', 2022.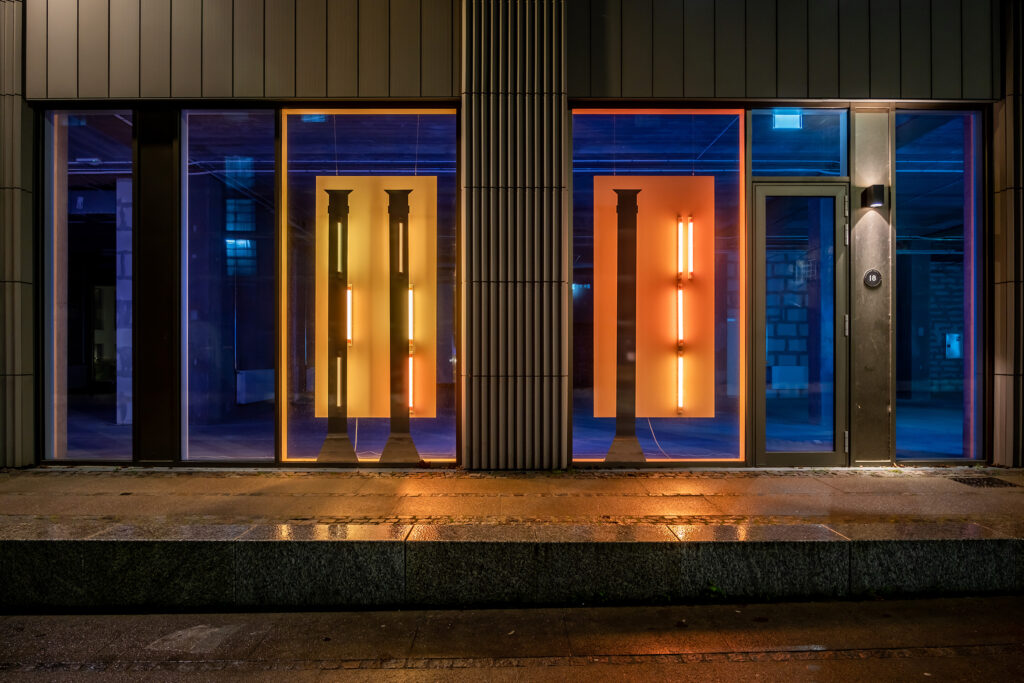 'City Lights' is a light decoration in collaboration with @carlsbergbyen and @briqgroup. The lightwork invites you to wander around Carlsberg, where the empty shop premises are lit up with coloured light. The idea of the work is to invite residents and visitors of Carlsberg on a city walk of light that both encourages movement, tells about the history of the district, and increases the safety of the area.
'City Lights', consists of panels, light tubes and mirror foil, which are hung in the windows of the Mineral Water House, Bønecke House and Steenstrup House on Pasteursvej in Carlsberg. LED tubes with colour filters are installed on both sides of the panels. On the outside of the windows, mirror foil has been applied, which reflects both inwards towards the light and outwards towards the street. This dual lighting and mirroring works both on its own and in tandem with each other. Thus, on some windows the mirror foil is placed on top of each other, and in others it is placed staggered, or next to each other.
The inspiration for the design of the lighting and the mirror foils is taken from the surroundings of Pasteursvej that 'City of Light' inhabits. The Mineral Water House and the Boenecke House are adjacent to the Boiler House, which will house the new Dance Halls. Here, light and foils establish a vertical string that in tandem imitates the chimneys of the Kedelhaus across the street. Similarly, the bricks from the Chalk Tower will shape the light and foil windows of Steenstrup House, creating a more playful and random look that mimics the rounded and randomly placed stones of the Lighthouse.
The colours in 'City Lights' have been carefully selected to create a walk through the decoration on Pasteursvej. From the Mineral Water House, to the Bønecke House, to the Steenstrup House, the colours evolve from window to window, inviting the viewer to move throughout the installation. The colours are arranged to mimic a sunset, from yellow, orange, red, pink, magenta, violet blue. The back of the panels will be lit by the complementary colours, to achieve the greatest possible contrast between front and back.
'City Lights' opened on 29 September 2022. The project is funded by Carlsberg Byen and developed in collaboration with Briq Archietcs.
Photos by Kim Matthai Leland
Materials:
Mdf Panels, LED tubes, foil, wires.
Dimensions: 25 panels of 2,4 x 1,2 meters, spans over 180 meters of Pasteursvej.
Links: