Inside/Out at Brandts Museum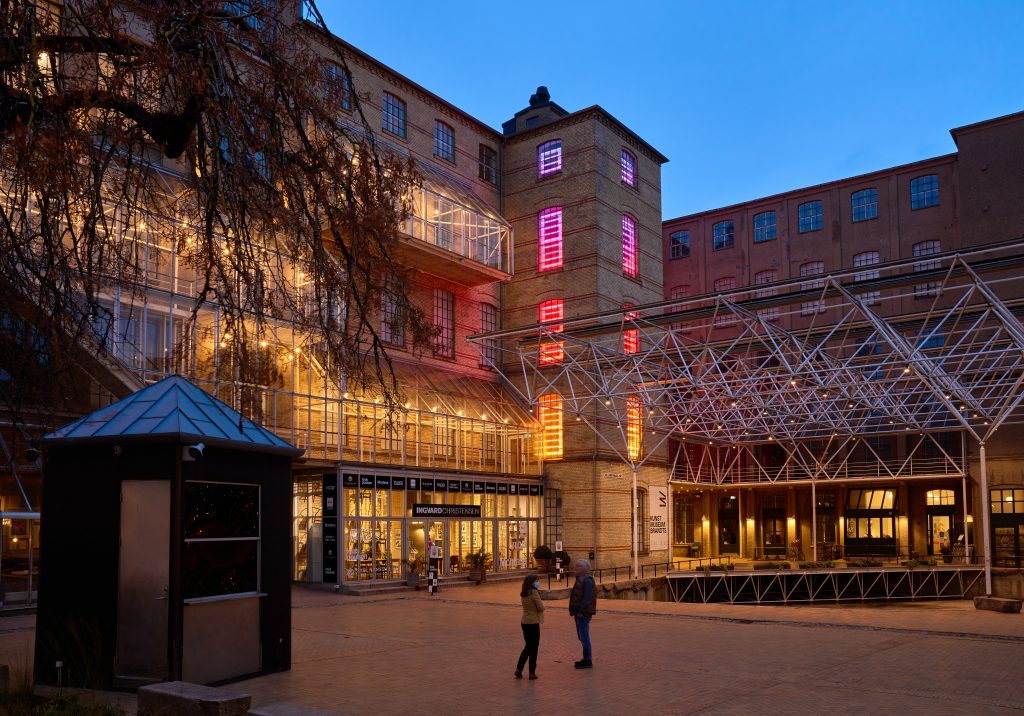 At Kunstmuseum Brandt's tower, the light work 'Inside / Out' stretches vertically up the facade in a changing palette of colours from warm earthy tones to the cool, clear blues of the sky. Through the multi-coloured light sources, the building is illuminated, helping the interior of the museum, its art exhibitions and many stories, to radiate over the city and connect with the outside world.
As an art museum that boasts 250 years of art history, an extensive programme and contemporary art, it is important to be visible to the public and attract the diverse audience that the museum and the arts are for. At the same time, Kunstmuseum Brandts is part of a long and interesting history, beginning with a dye and factory business that has created great local roots and importance over generations, and which today forms the association of Odense art institutions in the old Cloth Factory. It is this history, diversity and dissemination of art that 'Inside / Out' helps to convey.
The installation of 'Inside / Out' is inspired by the Art Museum Brandts' connection to the former dyeing business in the Cloth Factory, where it is said that dyed fabrics hung to dry on beams across the street and dripped down on passers-by. Just as the dripping fabrics coloured the city streets and gave the area its unique identity, 'Inside / Out' wants to illuminate the surrounding environment of the museum in enriching and luminous colours, and stand as a way finder to lead Odense's local community and tourists to the city's art centre. The choice of chromatic colour stems from a wonder at nature's own colour palette – a theme where art and technology have always been able to meet. In 'Inside / Out', it is the light sources that together paint a picture of the passage of day and time – through the depiction of a brilliant sunrise that, when bent in the atmosphere, creates a colour transition from yellow, orange and red, to magenta, violet and dark blue. By day, the work will appear framed by the tower's window frames, but by evening and night it will transcend the shape of the building and illuminate its surroundings.
Consisting of simple LED light sources, 93 chromatic coloured LED tubes installed in the windows of the tower's facade, 'Inside / Out' is a light work in its purest form. Its powerful effect comes from the interplay between the chromaticity of light and the particular form of the physical building – the many windows of the factory tower – and is created in the dialogue between space, light and viewer.
'Inside / Out' was created in collaboration with Kunstmuseum Brandts and Brugerforeningen til Brandts Klædefabrik with support from Ingeniør N.M. Knudsens fond and Odense Kommune, Kulturpuljen. 'Inside out' opened in January 2022.  
Links:
Kunstmuseum Brandts:www.brandts.dk
Brandts Klædefabrik: www.brandtsklaedefabrik.dk                
Odense kommune: www.odense.dk