Gates of Diversity, 2021. Copenhagen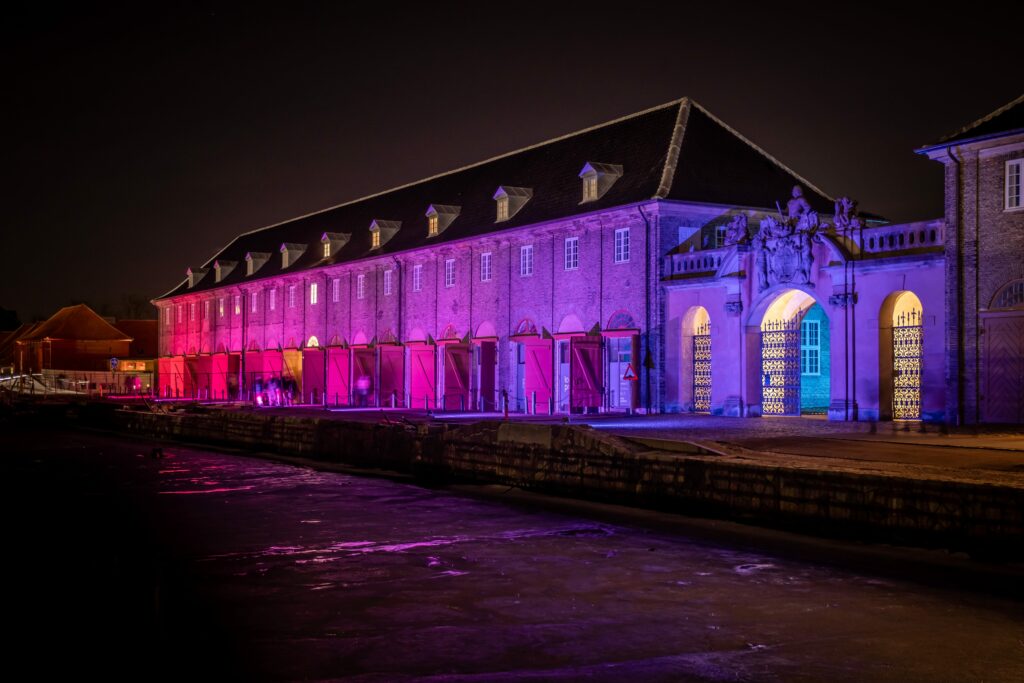 The Gates of Diversity is a site-specific light installation created for the historic site Kuglegården on Holmen in Copenhagen. The Gates of Diversity takes its cues from the past, present and the future of the historic site with a colorful illumination of the old buildings.
250 years ago Kuglegården served as an impressive naval arsenal on Holmen in Copenhagen, manifesting the power and strength of the kingdom to all foreign enemies. Here Kuglegården and Holmen were the gateway for shipping to and from Copenhagen, where all kinds of goods were unloaded; Fish, salt, gunpowder, cannonballs and luxury goods. The buildings were used to store cannon balls, hence the name, Kuglegården – The Canonball Yard. Today Kuglegården is a creative and sprawling hub for architects and exclusive shops. With the Free Town of Christiania just next door, the area is one the most diverse of it's kind in Europe. 
Using 26 powerful LED floodlights, the facades and gates of the historical buildings are illuminated to form the framework for the installation. With the distinctive use of color transition, Gates of Diversity is a tribute to the cultural heritage of the site, architecture and multifaceted creative institutions in the area, while at the same time being an unmistakable signature of Studio Jakob Kvist. The colored light invites the visitors through the gates into the courtyard to explore the rich history of the architecture and buildings at Kuglegården narrated by the color transitions in the lighting. The work is accessible both from the seaside and from inside the courtyard, and can be accessed through the large gates to the Copenhagen Canal and Holmen.